LENS

🪩 AKA The Giant Disco Ball 🪩
3.3m x 2.7m x 2.7m
Marine Grade Stainless Steel, Concrete, Bearing
Available for rent or purchase.
'Lens' is a kinetic artwork designed to be played with and danced next to.

With a push, audience members can spin the sculpture creating a rotating disco-ball reflecting the surrounding environment in fragments of light and colour. The sun's light bounces off the mirrored surfaces, casting squares of light outward in concentric circles.

Trundle ABBA Festival 2023



World Pride / Mardi Gras 2023








More projects
TIDES
2022
Batemans Bay, NSW
Steel

5.9m x 3.7m x 4.2m
6.2 tonne

John Holland
Eurobodalla Shire Council


Commissioned by John Holland and the Eurobodalla Shire Council 'Tides' is a creative repurposing of heritage listed steel recycled from the historic Batemans Bay bridge.

The sculpture utlises two structural nodes as the base of the work, relatively unchanged from their original form. As the eye moves further up the work, segments of steel welded at varying angles and distances apart spiral and twist to form 3 curved arches floating above the viewer.
VIEWFINDER

2019
Sculpture by the Sea Bondi, 2019
Steel, Concrete, Glass
5.2m x 3m x 1.5m
6.3 tonne
Waverley Council
SouthCross Engineering
Yuri Humeniuk (Move Art)
Axolotl
(Sponsor)
Sell and Parker
(Sponsor)
'Viewfinder' is a large periscope-like sculpture reflecting a previously unseen view of the ocean below. Consisting of a 200kg mirror cantilevered by 6 tonnes of concrete and steel the structure reflects both light and sound to create a mesmerising display of the ocean. Viewfinder draws inspiration from historic naval interfaces and the human-nature interaction.
Now permanently located in Lighthouse Reserve, Woollahra
(see more)
.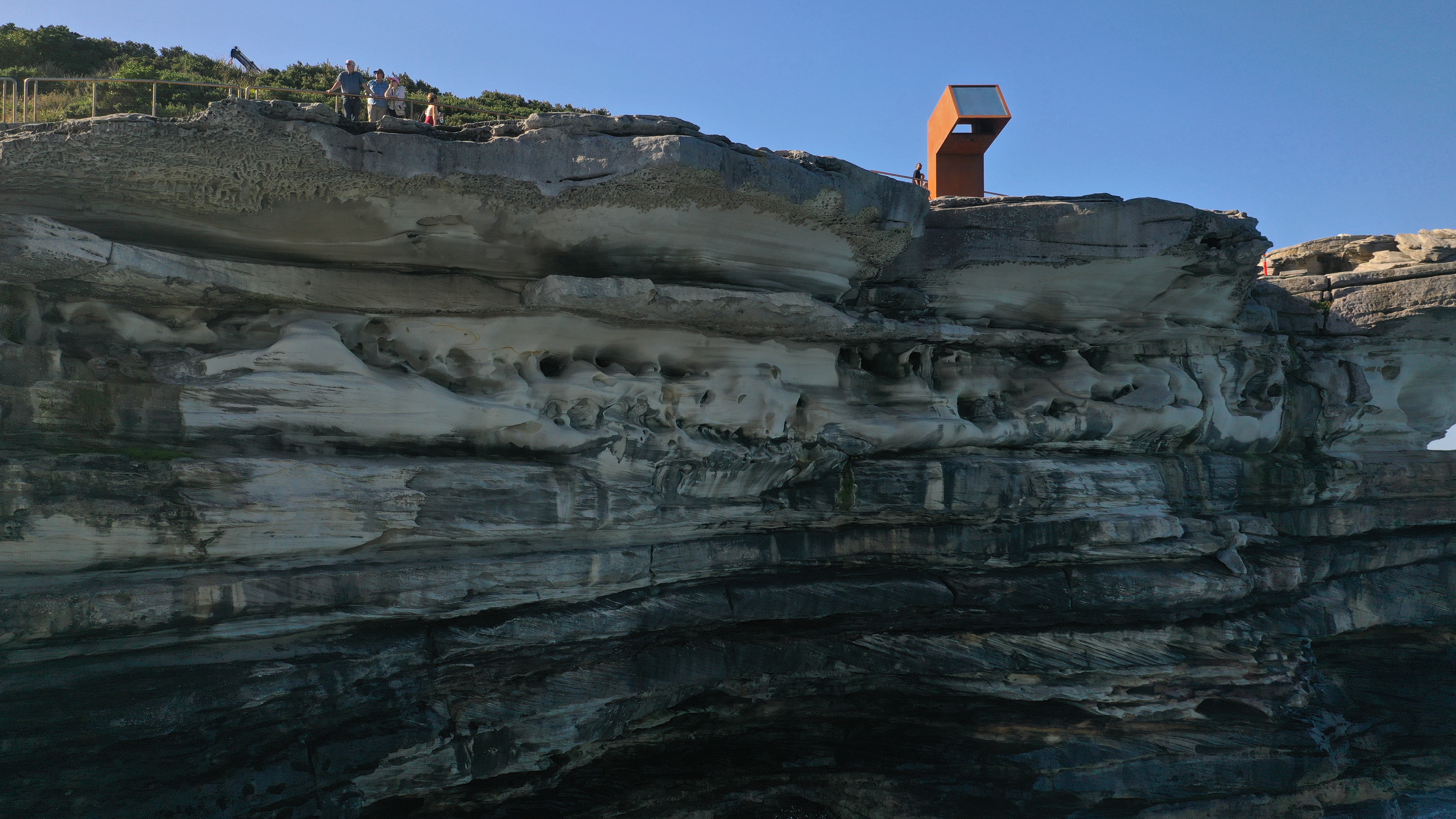 EMERGENCE

2023
Wonthaggi,Victoria
Steel, Concrete, Glass
4m x 3m x 1.9m
2.1 tonne

Bass Coast Council
SouthCross Engineering
Mojo Steel


'Emergence' is inspired by the theme of transition, articulating a point of junture between past, present and future. It aims to reflect notions of movement, intersection and evolution with particular reference to the history, character and future of Wonthaggi.

The work presents a dynamic form of cables and tunnels that ascend from the depths, converging at two points, before transforming through a mirror into a self-sustaining loop.

SENSOR
2021
Sculpture by the Sea Cottesloe, 2021
Steel, Concrete, Glass
1.2mW x 2.3mH x 1.2m
Cottesloe Public Art
Southcross Engineering
Yuri Humeniuk (Move Art)

'Sensor' is a pixelating sculpture. The work relies purely on reflective panels of aluminium and a diffusing glass panel to pixelate the view ahead.